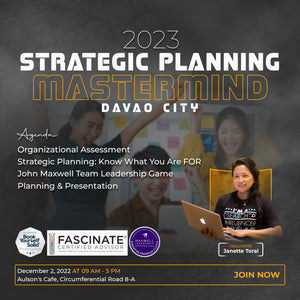 Ready for 2023?
Join us for a Strategic Planning Workshop this December 3, 2022 at Aulson's Cafe, Circumferential Road 8-A Davao City, Philippines from 9 am to 5 pm.
Here are the activities lined-up:
1. Organizational Assessment
This is an assessment tool to help you determine your priorities.
2. 2023 Strategic Planning Presentation & Discussion
We will discuss strategies as aligned with your organization mission and vision.

For the Customer
For the TEAM
For the Community
For YOU
When you undertake activities and programs based on what you WANT to be known FOR is what you're known FOR, you create vision carriers for your organization. And they help grow the business FOR you.
It's no longer about being the best company or organization in the world. It's about being the best company or organization FOR the world.
3. John Maxwell Team Leadership Game

It is a comprehensive game based on the teachings of John C. Maxwell. The game helps improve their leadership intelligence and increase their effectiveness.  It is a fun and yet challenging experience designed to help team members understand core leadership principles and values.
Through this game, we will raise the leadership awareness of participants and introduce timeless leadership principles that will bring about positive change through communication and connection.
About the Facilitator
Janette Toral is an Executive Program Leader with the Maxwell Leadership Certified Team (John Maxwell Team). She is also a Book Yourself Solid Certified Professional and Fascinate Certified Advisor. She is licensed to conduct the Know What You Are FOR, Book Yourself Solid, How to Fascinate, and facilitate the John Maxwell Team Leadership Game. Full credentials at https://janettetoral.com and https://linkedin.com/in/janettetoral.